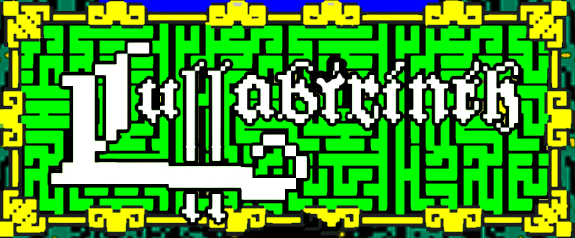 Lullabyrinth - Cursed Edition
Lullabyrinth: Alpha and complete version announced!
---
What a week for Lullabyrinth!
The project had an Alpha release with many fixes, especially on difficulty. Now the game is more easier for the people who wants to try it and beat the Labyrinth.
I know there are so many bugs and so much to do, but I will do my best for improving the experience…to the complete version! As a personal deadline I decided to release at least the beta before the end of the year. Wish me good luck!
What I am planning for the complete version? Let me see…
…a real labyrinth this time?
64 maps, 16 for area (yes, I will add one optional area! It will be…even more weird than before) plus the one for the final battle!
Normal enemies in certain maps like normal RPGs, three for area (so 12 normal enemies for the game) and they will have random stats each time! But if you can't grind, what they will hide from you? What is the difference between fight or flight?
Puzzles! One for area will be obligatory to do, one optional and one…an optional hard puzzle!
Secrets and Lore about the world of Lullabyrinth!
Trials and challenges which gives you…I can only say it's better you will do them!
A new equip system! You will learn abilities and then equip them in slots! You will increase stats, improve your magic, unlock passive abilities!
NPCs insides the Lullabyrinth! You can talk to them and do play T&T (Tricks and Trinkets)!
Choose your own playstyle! (Is this a thing?) Do you want to skip all the enemies and win the game anyway in a Pacifist way? If you manage to convince the final boss, You can! Do you want to destroy everything and being stronger? Sure thing! Do you want just to battle enemies and avoid all the secrets, story, puzzles and other optional challenges…or maybe just rush your way? The game won't stop you for sure!
A more coherent graphic style!
And…bosses! All of them are optional, but if you want that sweet ability, challenge, cutscene and being more prepared for the final boss…you should try beat some of them (unless you will find a way to skip the final boss somehow).
And there you have it. I am struggling now for putting skill descriptions in-game and writing all the documentation, but I am working on it, almost finished! I just hope to finish the better game I can do at the end of this year and showing this to you.
Thank you for your time.
Files
Lullabyrinth - Alpha.zip
138 MB
Nov 19, 2022
Lullabyrinth (Jam version)
163 MB
Oct 31, 2022
Get Lullabyrinth - Cursed Edition